Discover more from Kyle Poyar's Growth Unhinged
Revealing the playbooks and hidden tactics behind today's best startups. Join 35,000+ weekly readers for real-life growth advice, playbooks and case studies.
Over 37,000 subscribers
Your guide to building a startup program
A tactical deep dive from Miro's Former Head of Growth Programs Olena Avramenko
👋 Hi, it's Kyle from OpenView. Welcome to another Growth Unhinged, my newsletter that explores the unexpected behind the fastest-growing startups.
I'm currently headed back to Boston after a quick trip to Dublin for SaaStock ☘️. Being around so many startups was extremely energizing and reminded that there's a lot to like about targeting this early adopter audience. It's no wonder that SaaS companies often offer generous startup discount programs, which can convert to paid plans at surprisingly high rates (just see Elena Verna's newsletter).
But there's a catch. These programs tend to fail more often than they succeed in my experience. They take time to bear fruit and require building an actual program, not simply offering a discount.
Olena Avramenko has seen what it takes to get these programs off the ground. After all, she drove Miro for Startups, Miro for Agencies and Consultants, and Miro for EDU as Head of Growth Programs from 2020-2022. She shares a very practical guide with real-life artifacts from her hard-earned experience. (This post may be too long for email; get the full version here.)
Current subscribers: 34,403. Join our unhinged crew for more growth deep dives ☝️
---
Many SaaS products are a great fit for other startups, and startups often become their first beta users and first paying customers.
Startups are a very special category of companies; they are fast-moving, responsive, viral, and they either fail and join a new company or become future enterprises ($$$). One other thing… in the beginning of their journey, they are very scrappy and can't really afford to pay (😬).
I love startups as an audience because I've worn "startups" shoes myself for the last 10+ years: I built my own bootstrapped startup, I worked with startups in a Corporate Venture studio, and I also spent 3 years during Miro's hypergrowth.
I advocate for treating startups as a special category of your users, and in the case you create a meaningful product for them, injecting it in the early stages of their journey. To help you with this, I have prepared a comprehensive framework with detailed steps for starting your startup program — all informed by my first-hand experience building and scaling growth programs at Miro.
---
Step 0: Write a Program Investment Proposal
I like the mentality that everything we do is an investment. Therefore, before taking any action, it's essential to formulate our hypothesis regarding the expected outcomes of this investment.
I did the same. Before embarking on the journey of building the startup program at Miro, I created this initial program proposal and am pleased to share it with you (via Reforge Artifacts).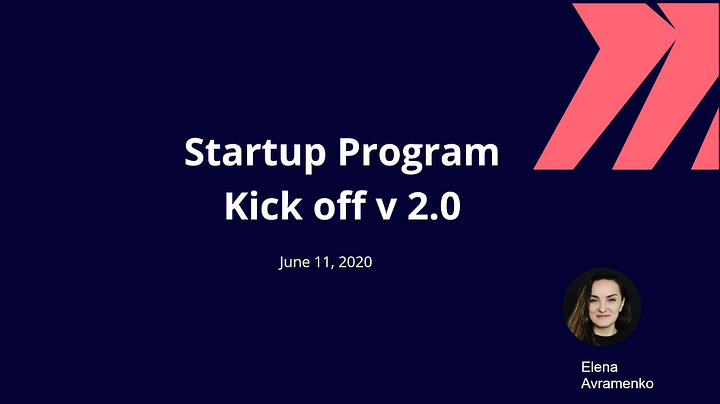 It offers a real-life example of how one of the most successful startup programs was established, along with a structured framework and valuable insights that you can leverage to create your own startup program. In brief, this document consists of five major areas that you need to address:
WHY NOW: Explain why this initiative makes sense at this moment and identify the potential market size to target.

WHAT: Define precisely what you intend to launch, including your vision for the program, your target audience, and your program offer.

GROWTH MODEL: Outline how you plan to create a sustainable growth loop to attract startups and describe your engagement strategy, including customer acquisition tactics and methods for engaging with startups and partners.

WSLL (What Success Looks Like): Specify the KPIs that will define success in both the short and long term. Also, outline your hypotheses.

RESOURCES: Detail the resources required for initiating and scaling this program, along with the expected timeline.
Depending on your specific situation, company procedures, and decision-making processes, your approval path may be shorter or longer, and the document may be more or less detailed. There are two important reasons why you should never skip Step 0:
You will have a well-outlined plan to serve as your starting point, allowing you to reflect on and benchmark your success later on.

Before embarking on this long-term strategic initiative, you have secured buy-in and commitment from your leadership team to sponsor you.
---
Step 0.1: Decide What to Measure
An important aspect is making assumptions about the impact your program will have on top business metrics. While it's undoubtedly a long-play, what are your expectations?
These assumptions largely depend on your product/audience fit and the stage of startups you are targeting. As a benchmark, I'll provide my own examples of assumptions for Miro and the numbers we expected:
Key metrics:

# of startups activated (a proxy metric indicating that startups have started using credits but not idle to keep them in accounts)

# number of startups that become paid

We didn't measure WOM, but it's valuable to add it (# of new teams acquired through WOM)

New ARR: We only accepted startups new to Miro into the program, meaning we only counted New ARR from these startups.

Almost no budget: We primarily focused on the organic acquisition of startups through partners and had minimal marketing budget. This made the New ARR we acquired highly efficient.

Team vs. individual focus: Startups typically consist of teams of two or more, so we were aligned with our main focus on teams rather than individual accounts.

If your program is run by one high performing full-time employee (FTE) and minimally supported by internal marketing and operations contractors for a productivity tool like Miro, in the first two years, you can expect new ARR in the range of $1M to $2.5M. If you will also measure indirect revenue impact by WOM from failed startups, you will add on top of this.
Step 1: Build a Startup Program MVP
These are the simple major steps to follow in building it up:
Create landing pages for startups and startup partners (accelerators and incubators). Tip: Utilize this excellent article on how to build SaaS landing pages by Anthony Pierri.

Enable your offering in the product. Depending on what you specifically provide and your current state of product architecture, this step can vary in complexity. In the case you offer x$ in credits per account, in general it should not take more than one sprint.

Enable program operations, including startup application forms and partner application forms. Tip: Ensure that your forms comprehensively cover your startup qualification criteria. This way, when your Startup Program operations coordinator receives a new application, it takes just 5 minutes to approve or reject it.

Create basic in-product transactional emails and lifecycle emails to support the program for startups and partners. Tip: Be considerate when sending out startup rejection emails. Rejections are never easy to accept. Always provide a clear reason for the rejection and, ideally, offer some other relevant options for the company.

Test the startup and partner journey with 10-20 friendly startups and 5-10 partners.
🌟 To initially enable the program, you only need a few tools. Here's what I used at Miro to build it:
---
Step 2: Launch the Startup Program
Launching your initiative requires both external and internal efforts. Here's a quick checklist for a typical program launch in SaaS startup:
Enhance the discoverability of your program on your website. Integrate your program offering into the customer's user journey.
Tip: Ideally, place this and other special offers for specific audiences in a separate section on your pricing page. However, consider the potential impact on user attention, as this page is highly visible. Be cautious not to disrupt the experience for other, more prioritized audiences.
Announce the Startup program in your monthly customer newsletter.

Include startup program information and a program FAQ in your help center.

Incorporate program details into customer support macros and conduct 1:1 sessions with team leads to familiarize them with the program.

Organize several program launch events in your community. (Tip: Consider inviting engaging speakers tailored to the startup audience, such as pitch coaches or product-market fit advisors.)

Do not forget to also launch internally to add to program and your personal visibility.

Announce the program during the nearest company all-hands meeting.

Add program information to the company's wiki, outlining the current state and plans for the next stages.
---
Step 3: Build First Program Partnerships and Your Program's Major Growth Loop
Your first partnerships are created to refine your partner offering and partner engagement tactics, serving as validation of how well the program works. Before engaging with high-touch partnerships, you concentrate on low-touch ones to establish the most important partnerships effectively.
Here's a possible plan to build your first partnerships:
Reach out to 30-40 small-scale accelerators and incubators. Your message should be simple and clear, outlining what you offer to startups (and why your product is relevant to them), what you offer to partners, and providing examples of similar program performance.

Schedule a 15-minute call with interested accelerators to discuss the possibilities of working together, your partner offer, and gather feedback on your value proposition for startups.

Start accepting startups from partnered accelerators and assess whether any changes need to be made in program operations or messaging.

Start doing some basic partner marketing with partnered accelerators:

Create and share an example of an internal announcement of the program available for their startups.

Create a template of their LinkedIn post for the partnership announcement.

Discuss their potential contributions to user-generated content (case studies, templates, etc.).

Explore possibilities for partnering on community events.

Establish 15-minute monthly status calls.
In general, you'll eventually have three types of partners in the program:
High-touch (10-20%): Established incumbents with expected inbound over 100 startups per year and significant PR value.

Mid-touch (40-60%): Mid-sized partners with over 30 startups per year or clear PR value.

Low-touch (20-40%): Small partners with fewer than 30 startups per year and without clear PR value.
🌟 You'll need to find the right balance to allocate time for each of these clusters, but the typical rule is to have 80% of partners go fully self-serve, and reserve 20% for more in-depth relations bigger channel partners.
The core organic growth engine of your program is via your partners. To ensure the success of your product, it's crucial to allocate resources accordingly.
When you treat your partners well, they will generate organic inbound interest and act as a supporting hand in integrating your product into a startup's tech stack right from the beginning. Ultimately, this creates a multiplier effect for the growth of your product + your partner's ecosystem + your community of startups.
---
Step 4: Plan to Scale Your Program
Scaling your program will highly depend on how well your product suits different types of startups and how essential it is for their day-to-day operations. Additionally, it hinges on the level of support you receive from the leadership team to invest in this long-term strategy. Here are some possible tactics you can employ:
Introduce new program tiers and geos: You can begin with a general application open to all qualified startups, but later on, expand into more specialized clusters, such as "scale-ups." In this tier, you can offer a fixed percentage discount on the Enterprise plan.
Add credit differentiators: Provide different credit amounts, such as $1,000 for startups applying through partners and $500 for independent startups. This approach increases the value of your partner offer and provides more credits to startups that typically have higher monetization potential.

Build strategic partnerships: Identify 1-3 high-touch startup partners who have the potential to bring a substantial volume of quality startups into your program.

Participate in key industry events: Engage with relevant field events to promote your program. Slush, WebSummit, Collision to name a few.

Nurturing new partners: Enhance the onboarding process for new partners, create onboarding materials, or conduct online events for their startups.

Develop improved lifecycle emails: Create more effective and in-depth lifecycle emails for startups, complemented by a monthly newsletter for your startup community.

Expand startup-related user-generated content (UGC): Share case studies and specific startup templates to enrich the resources available to startups in your program.
Another aspect to touch here is the evolution of your team structure as your program grows. In the beginning, at the MVP state, you can start with one generalist person who handles program management and partnerships. However, as your program expands, it becomes crucial to bring in specialists for the most critical areas of program success, such as Partnerships, Operations, and Community.
The team structure at scale largely depends on your company's overall approach. A centralized team design that might look like the graphic below.
---
My Top Learnings for Building a Startup Program
As you can probably guess, I made my fair share of mistakes. My most significant lesson learned is this: never build a program like this when your company is in a hypergrowth stage.
In such a condition, there's often a "hyper" level of chaos. So even if you initially secure all the necessary support and long-term commitment, it may not last long. As your leadership team and company focus undergoes changes, you might find yourself without a sponsor, in a situation when you constantly need to secure buy-in from new joiners. It takes energy and yields minimal results.
Other key learnings are:
Prepare yourself to operate as a "startup within a startup" because long-term initiatives like this one will often take a "back seat" to projects that have an immediate impact on metrics.

Offer more credits to startups coming from partners from the beginning. They tend to be of better quality and monetize more effectively.

Seek ways to measure word of mouth (WOM) as it can be a powerful lever if done well.

It's important to position the team in the right place within the organizational structure. The program's placement defines its trajectory, and my advice is to position it somewhere closer to the Growth team or Sales.
Thanks for reading Growth Unhinged! If you <3 this post, please support the newsletter by subscribing or sharing with a friend.
---
Other Resources to Go Deeper